Menu
This domain will be removed from your account and all the related temporary URLs will switch to the www.temporary-url.com domain.
Are you sure ?
Go Enterprise today for only $5 per month and start enjoying the following features with your temporary URLs !
#1 - Premium features
The Enterprise version includes all the features of the
Premium version
:
Straight redirection without ads and waiting time
Custom message before redirection
Custom message or URL for 7 days after expiration
API access
Full listing of your temporary URLs
Activation on a specific date in the future
Expiration when you decide with a click
Number of visits for each of your temporary URLs
Time zone choice (date and time are transparently converted)
Mass creation in one go (up to 30 temporary URLs)
Link cloaking
Extended lifespan for your temporary URLs
#2 - Custom domain name
You will be able to generate temporary URLs with your own domain / subdomain ! Let's say you have a website (yourdomain.com) and you decide to create a subdomain dedicated to temporary URLs (link.yourdomain.com) : instead of
https://www.temporary-url.com/AE3
, you will get
https://link.yourdomain.com/AE3
!

Please note that the custom domain name registration and its fees are not included, and are a prerequisite to use this feature. The domain or subdomain will have to be dedicated to temporary URLs. Some configuration will be necessary on your side to use your domain on Temporary-URL.com, we will assist you.
#3 - Custom logo and copyright removal
You will be able to upload your own logo, which will replace ours on the pages asking for a password or a captcha check (when you activate these options), showing videos ou text messages. The Temporary-URL.com copyright will also disappear.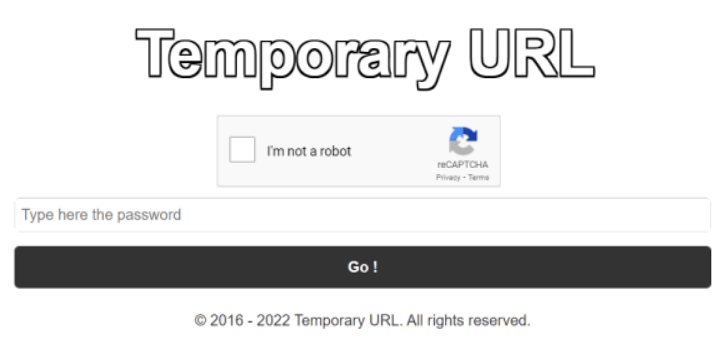 Subscribe ($60 a year) !